Snuff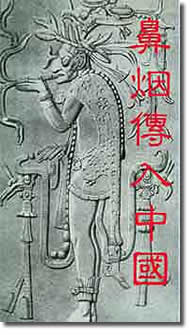 comes to China
Snuff is a kind of pharmaceutical preparation which the perfect ground tobacco powder is put into some rare medicinal Herb's-musk, etc. and sealed them into the wax pills and then staled for several different kinds of color, such as dark purple, deep yellow, pale yellow and so on. It tastes mellow and sharp . It is said that it can make eyes bright, refresh, exorcise epidemic disease, invigorate the circulation of blood. In the years of Wanli (Qing Dynasty), tobacco was circulated from America, Luzon to Fujian Province in China.
At the late 16th century the custom of tobacco-leave smoking and snuffing was spread from the Philippines to Japan by Portuguese and Spanish sailors, traders , missionaries. Tobacco was planted in the Japanese Imperial Garden and in the southern coastal trade ports. At the beginning of 17th century smoking is very popular in the upper-class, just like the tea, as an symbol of respecting guests. Then it spread to the Northeast China and Korea. Snuffing soon became a custom there. At the same time, Russia businessmen took tobacco, snuff and snuff boxes down to Northeast China and Inner-Mongolia.
Legend of Chinese inside painting snuff bottle
Here*s an legend of its origin. In the late years of Qianlong (a Qing Dynasty), an official went to Beijing for business and then addicted to snuff. With his business failed and all money running out of him, he had to lodge in a poor temple. Due to the snuffing addiction and with no money to buy it, he digged the remainder on the inside surface by a smoke-pick. As a result he drew many marks in it. Later a Buddhist monk saw this and got an inspiration. He then digged a picture of bamboo with hook inside the surface of a transparent bottle. This may be how the inside-painting snuff bottle occurs.
How is a inside painting snuff bottle made?
At the beginning painter painted on the inside surface of the transparent glass or crystal snuff bottle. Since the surface is smooth and uneasy to be described, only simple pictures , for example, katydids, cabbage, landscape, were completed. Then the bottle is filled with iron sand and emery, shaken and robbed as rough as Xuan Paper.Next , fine pictures, such as the figures, flowers, birds are painted. All work should be done with great care.
Development of Chinese inside painting snuff bottle and Hebei School Inside Painting
Chinese snuff bottle is called the epitome of Chinese arts ,such as painting, calligraphy, carving,inlaying,handicrafts, ceramics, glassware, enamel, etc. And it is. It really is. This is why Chinese snuff bottle is well-known all over the world for years.
It is said that it was emerged between the years of Qianlong and Jiaqing (two Qing Dynasties), so it has been a kind of Chinese art for 200 years.
During the Qing Dynasty, bottles were mainly made out of Guangzhou, Beijing, Boshan (in Shandong Province), Inner-Mongolia, Liaoning Province and Tibet. Inner-Mongolia famous for its silver snuff bottles, and Liaoning for agate ones, and Tibet metal ones.
To make an inside painting bottle, painter must work on the rubbed inside surface throughout the mouth of a bottle. Fine pictures are painted. It looks magnificent and smooth and so gains much admiration. In Europe is fairly expensive.
From the years of Guangxu to early 20th century, the art of inside painting reached its prosperity. The painting subjects are very wide and many highly-skilled painters occurred. The most famous were: Zhou Leyuan, Ma Shaoxuan, Ding Zrzhong, Ye Zhongsan, Bi Longjiu, Zhang Wentang and Xue Jingwan.
Ye Zhongsan was born in 1875 and died in 1945. The pictures he painted includes flowers, birds, mountains, rivers, figures, plants, insects and any other possible things. At the same time he modeled after the works of Zhou Leyuan and Ma Shaoxuan. These made his works very popular overseas. In the Chongyang Festival of 1913, he painted a picture of a mythical legend: Zhong Kui. One side is Zhong Kui and the other side his sister. The pictures linked up each other and combined as a whole and can be separated individually. Ye Xiaofeng and Ye Fengqi, sons of Ye Zhongsan, carried on father's skill and have achieved great success,too.
Wang Xisan, whose former name was Wang Ruicheng, was born in 1938. In 1957 he learned the art of the inside painting from Ye Xiaofeng and Ye Fengqi. On the basis of his traditional skillful teachers, he learned good points from each schools, especially Chinese painting and calligraphy. He mixed them into the inside painting and got the top standard. In 1978, Wang Xisan was conferred the title "Handicraft Artist" and in 1988 "Master of Chinese Handicraft" by the Department of Light Industry.
Zhang Rucai, since 1972, he has learned from Wang Xisan who is the founder of Hebei School Inside Painting Snuff Bottle.
In April 1996, Zhang Rucai was conferred Master of Chinese Folk Arts & Crafts by the United Nations Educational, Scientific and Cultural Organization (UNESCO). In June the same year, he was awarded Master of China Arts & Crafts by China Light Industrial General Association and received by Premier Li Peng.
Zhang Rucai is the chief director of the Chinese Handicraft Research Association of Snuff Painting. From 1985, he was invited abroad many times to attend various fairs and cultural and art exchange activities. The international fame of Zhang Rucai is rising as his snuff bottles works were bought by collectors of different countries.
Tips on Guyuexuan
Guyuexuan originated in Kangxi, Qing Dynasty. It is made by painting on glass rough cast with enamel color and treating it with high temperature. Due to high degree of technology difficulty, only small articles such as snuff bottle, cigarette dish were made in the imperial kiln.
The main difficulty to make Guyuexuan lies in that the temperature of enamel is almost same with the melting point of roughcast. So, the artisan must be able to strictly master the kiln temperature and the thickness of roughcast. To make a piece of Guyuexuan needs dozens of coloring and bluing. With even a little neglect, all the former efforts would be spoiled.
In the year 1987, Yi-Hu-Zhai succeeded in producing Guyuexuan series products of snuff bottle, flower vase, ornaments etc. in small batches and thus filled the gap of handicraft market. The foreign businessmen and collectors warmly receive this. We supply Guyuexuan snuff bottle with a wide range of designs.
Mr. Liu Heping, famous for his excellent Guyuexuan works, was awarded Folk Industrial Artist by the UN Educational Scientific and Cultural Organization and Chinese Folk Artists Association. Learn more about his works.