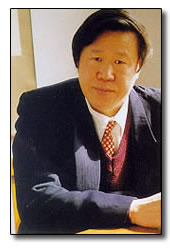 Brief Introduction of Master Zhang Rucai:
Born: in Jan. 1952
Birth place: Fucheng County of Hebei Province
Time to start inside painting: In 1972, he began to learned the inside painting arts.
Time to win the title of Master of Chinese Folk Arts & Crafts:
In April 1996, Zhang Rucai was conferred Master of Chinese Folk Arts & Crafts by the United Nations Educational, Scientific and Cultural Organization (UNESCO). In June the same year, he was awarded Master of China Arts & Crafts by China Light Industrial General Association and received by Premier Li Peng.

In June, 1997, Zhang Rucai was selected as one of Ten Artists of China by the United Association of Chinese Literary and Arts Circles. The snuff bottles painted by Zhang Rucai have won many prizes of Light Industry Ministry, the State and the World.
Since the year 1985, Zhang Rucai have been invited to Belgium, France, Brazil, the U.S.A., South Korea, Singapore, Malaysia, Indonesia, H.K. and other countries and regions to give a performance of the inside painting arts and was praised by artists of different countries.
Unique Style of Master Zhang Rucai's Works
Snuff bottles drawn by Zhang Rucai were collected by collectors of different countries. Some were sold at auction in H.K. at very high prices.
Asian Arts Magazine in the U.S.A, International Snuff Bottle Journal, CCTV, The People's Daily, Guangming Daily and other magazines and newspapers reported about Zhang Rucai and sang high praise of his artistic attainments.
Collectors of snuff bottles generally acknowledged that Zhang Rucai has two unique characteristics. One is his antique imitation works, very subtle and vivid, even difficult for experts to recognize, the other is his ancient genre and traditional painting of Chinese Beauty. The ancient genre is filled with emotion with the landscape; while his painting of ancient beauty has graceful figure, smooth and fine lines, with distinguished air of elegance and coquetry.